Had to kill a chicken today.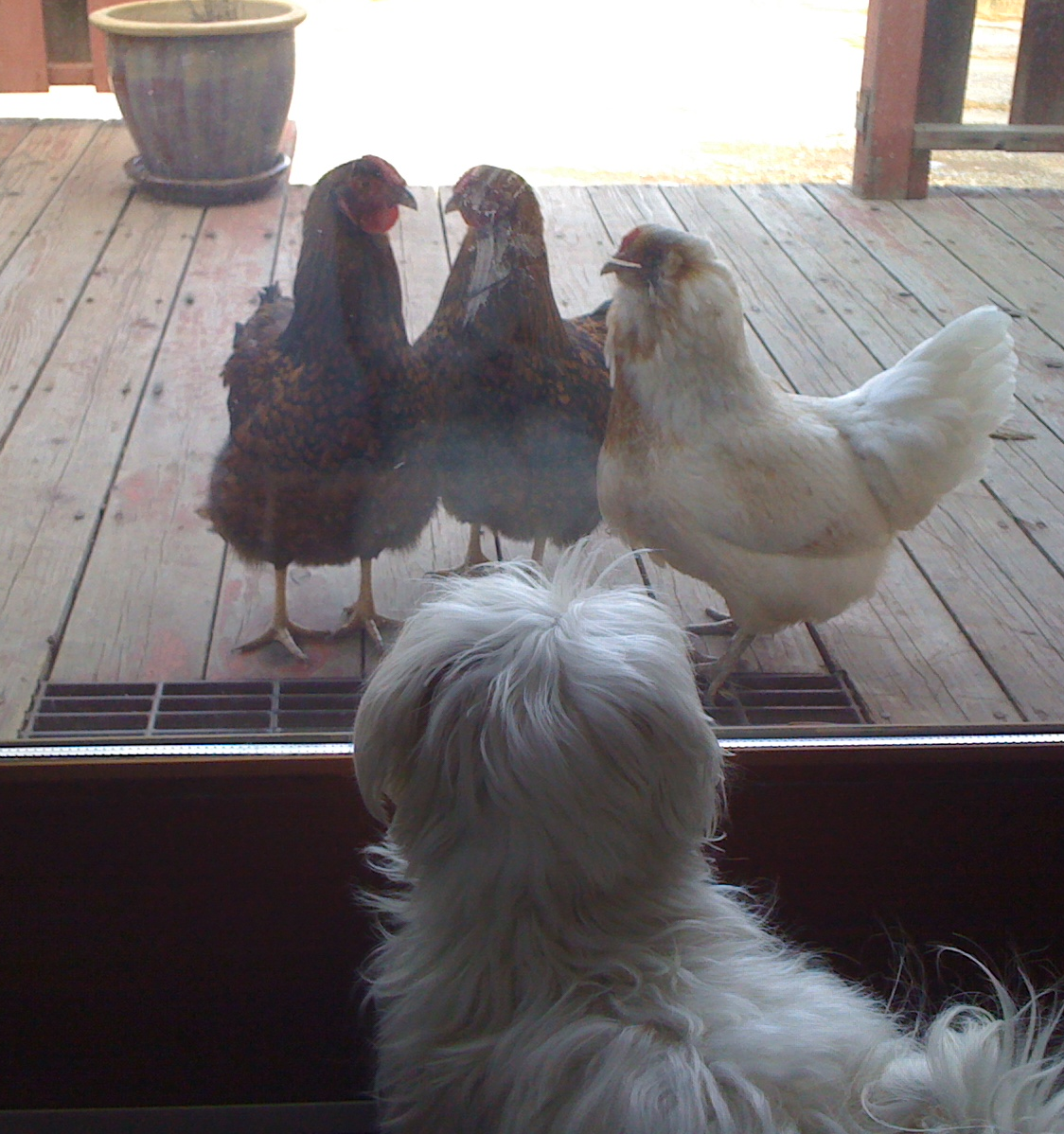 Miss Americauna was the only one of our birds with whom we could really be said to have a close relationship. Needless to say she was our favorite. Feisty, intelligent, full of energy, adventure, and will power, she liked us as much as we liked her. The other chickens followed her around on her free range jaunts.
Unfortunately, she developed a respiratory weakness, manifesting as a bad eye infection which finally moved to both eyes. Allowing problems like this to threaten the flock is not wise, and we let it go on far longer than others might have (then there's always the risk of something serious, like H5N1). We doctored her for several weeks as best we could, but she didn't respond to any treatment we were willing to use. We're not raising birds or eggs to feed them antibiotics. Our interest is in cultivating the evolution of a healthy flock which doesn't need drugs to stay alive.
In the course of trying to treat this condition, my relationship with Miss Americauna deepened — I came to like her even more, and she developed a trusting draw toward me. It may have been that trust which made ending her life so 'perfect'. But I don't think so. I believe that as soon as I picked her up, she knew, understood, and accepted what was about to happen. I know that's a lot to attribute to the consciousness of a chicken, but it was my experience. And I believe it was hers.

Sue and I had mutually faced the reality that it was time for her to go. We chose the simplest, quickest, and least traumatic method of killing her. We were centered, surrendered, and well prepared. But it was Miss Americauna and the Grace of a greater power which facilitated the smooth, effortless experience. From the time I picked her up, she was quiet and did not struggle. I even took a side trip into the garage to grab some protective eyewear in case things did not go as planned, holding the submissive bird gently under one arm. Miss Americauna was not a quiet, submissive bird.
I walked over to where Sue was waiting, and we smoothly went through the procedure in a few, unhurried seconds. Never once did Miss Americauna, flinch, panic, squawk, or resist. She knew she was loved. She knew that we had tried hard to turn things around for her. She was ready to give it up, and try again in better circumstances next time.
None of the other birds are aware of Miss Americauna's fate — except that she's gone — but it's already clear that they miss her as much as we do. Life and grace goes on at the Brahmanda Egg Farm and all other planes.