Surprise! I have a quick post for you.
A funny thing happened on the way to writing Breakfast Like an Emperor. In fact, a number of things are happening. And they're all things I want to share with you, but here's one that motivates me today—the day after it began.
Yesterday for some reason, I looked at my Twitter account. Didn't take more than a couple of minutes to notice that Michael Pollan (@michaelpollan) had posted an important tweet: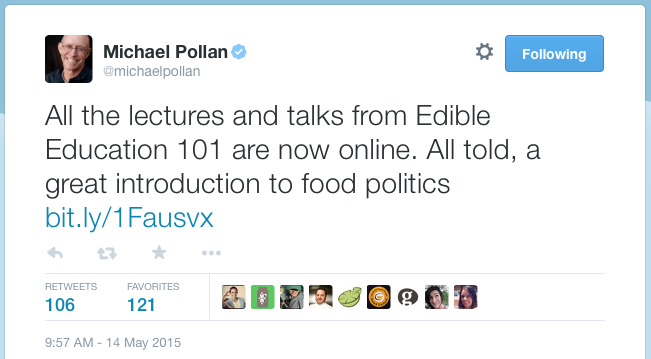 For those of you who may not know him, Michael Pollan has become one of the most intelligent, entertaining, well-informed, motivating and thought provoking writers on the subject of food today. His Omnivore's Dilemma was a landmark for him and his readers. The latest I've read, Cooked: A Natural History of Transformation, is remarkable. Highly recommended, very different books.
Regardless of his depth of understanding, it never seems to be enough for Pollan. He's always digging to new levels of comprehension. If you haven't read him, you're likely to encounter new aspects and fascinating details of food in our lives. Without this level of public understanding, America's health (at least) will continue its downward slide.
One of the things Pollan brings to the table is clarity of perception of hugely complex systems of our political culture that bind us to the unfortunate path our food is on. His tweet announces the online publication of all videos of the class's lectures.
Speakers include:
Mark Bittman, of the New York Times,
Marion Nestle, professor of nutrition, food studies, and public health at New York University,
Alice Waters, originator of Chez Panisse in Berkeley (1971), where she defined California cuisine using organic, locally grown foods long before it was fashionable,
Eric Schlosser, author of Fast Food Nation,
Michael Pollan, professor of journalism, UC Berkeley,
and other dedicated activists who are giving their love, attention, and expertise to the fate of our food.
Equally important in these videos are the bright and motivated students attending these lectures, and whose questions and ideals may help define how we need to change our course, and perhaps, eventually lead us to a new and different destiny.
This is a wonderful opportunity to sit in on this class at the Brower Center to learn what these individuals are contributing to a better food environment in this country, as well as the rest of the world—and see what you might contribute, as well. Click here to visit the class.
Today, I watched Pollan's amazingly concise, hour and forty minute overview and history of our dilemma, as preparation for where the stellar cast of lecturers and enthusiastic students may be takening the class. I enjoy Pollan and always come away with important perspectives I haven't considered.
I'm looking forward to seeing more of these eleven lectures and interviews. Hopefully, you will, too!