This summer is vying to be one of the strangest of all. For weeks—both before and after seminar—everything has been in upheaval and disarray, much like the chaos between one level of perfection and the next. Not that anything is amiss. It's precisely as it should be. Nonetheless, chaos and upheaval are everywhere we look.
Most recently, we seem to have narrowly missed a mandatory evacuation from wildfire to the south (the Dog Head Fire, 17,000 acres). Watching the Master's orchestration of these events has been a joy—seeing the rest of the pinda world come unglued while He oversees the intricacies of His intention. Wonder, wonder, wonder.
As usual, it's all been highly instructive. Today, the day before the absolute stillness of solstice, we're being given a breather and an opportunity to rest, observe, and appreciate these gifts.
Late last week, when the fire was moving fast and enjoying seriously threatening southwesterly winds, and Sue was packing her bags for an impending mandatory evacuation, I took the opportunity to begin the task of dismantling a giant juniper I've had my eye on for years.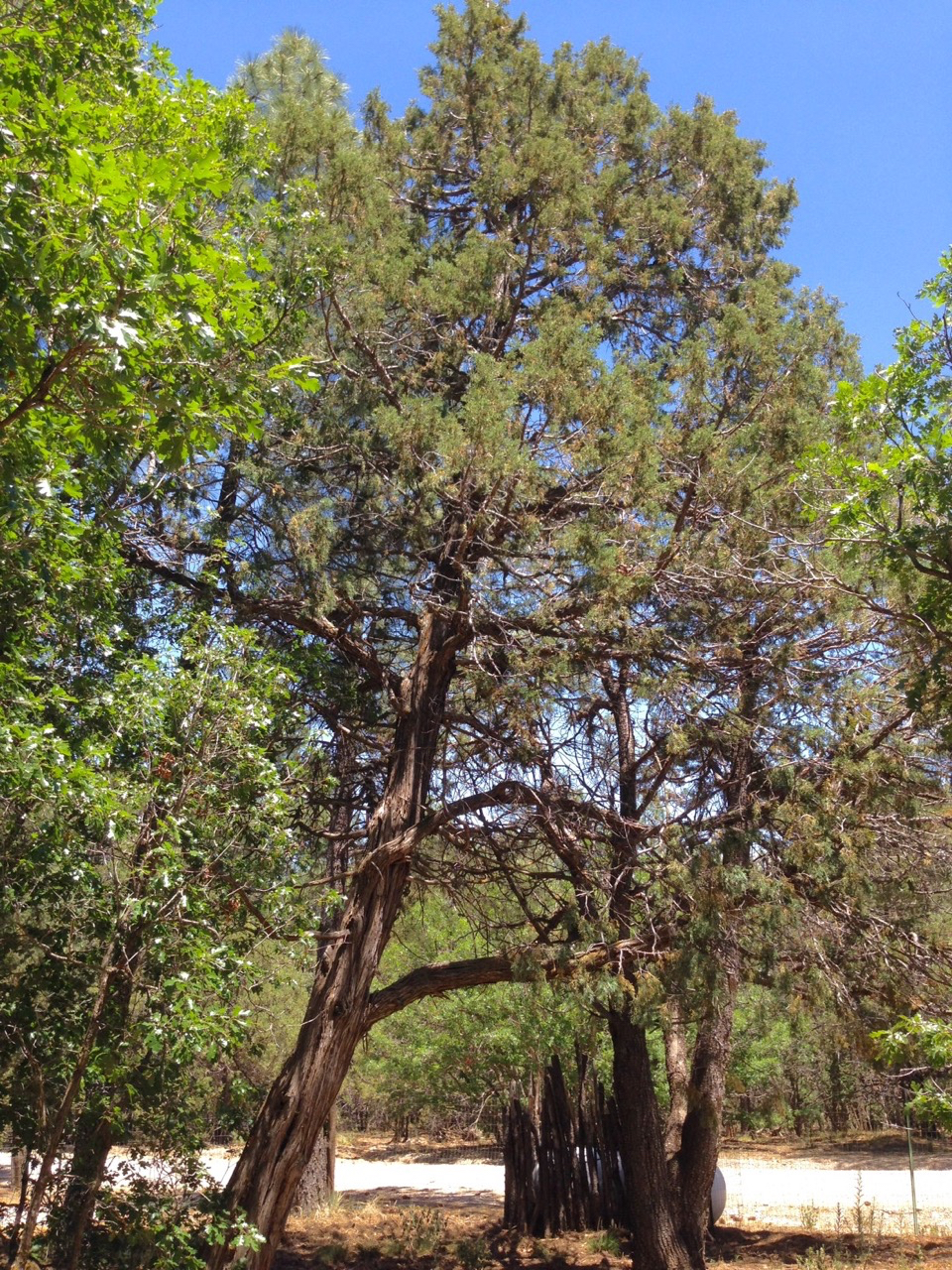 But Thursday evening, as I dragged tree sized limbs out to the meadow, the Master bathed my sweaty face with a cool northerly.  That soothing breeze spoke loving volumes, at many levels. Nice, Garji—thanks! Since that time, the fire has not presented a real threat, despite bureaucratic determination that we're not safe. It's been fun watching His clever touch slowly deflate their plans to evacuate us. Mandatory evacuation has remained a mile or so south of us.
The process of making a token gesture of compliance with their grand plan demanded we spend yesterday afternoon actually packing up to leave the house for two weeks—as if we might return to nothing. Having done an abbreviated version of this just a couple of days prior, we had acquired some practice in a more 'heated' circumstance.  We had more time yesterday, and the Master gave us the opportunity to be more thorough in the consciousness of our selections.
So, while I scoffed at the outwardly empty and meaningless effort, I allowed myself to fully engage in what may have been the Master's true intention for this exercise. Some of my choices were surprising to me, but I was happy and content in all of them. And they all fit in our cars, without effort. Dream journals, books, and irreplaceable photos of the Master were easy choices. Surprises included tools of creativity which have accompanied me on decades of adventures (e.g. my old Gitzo tripod), and some of my favorite accessories for traveling in wilderness (a pair of perfectly designed, compact Black Diamond trekking poles, no longer available). That was about it. Oh, and seminar clothes…
We had the chickens in the coop, ready to be put in Sue's truck for transport to the fair grounds where free lodging is being offered.
Near sunset, we were truly ready, if required to leave. After such intense activity, we were wiped, and in 'what now?' mode. Sue suggested a movie, and we happily plunked ourselves down in front of a perfect choice, which transported us to a funny little world of another nature. When it was over, it was after 9pm. No evacuation.
The eery silence penetrating the neighborhood these few days still perseveres, and we're loving it. Yesterday morning I went for a walking contemplation out toward the open space (which is closed). This is a paved road which entertains a steady flow of city traffic on weekend mornings. I saw one car, in two hours.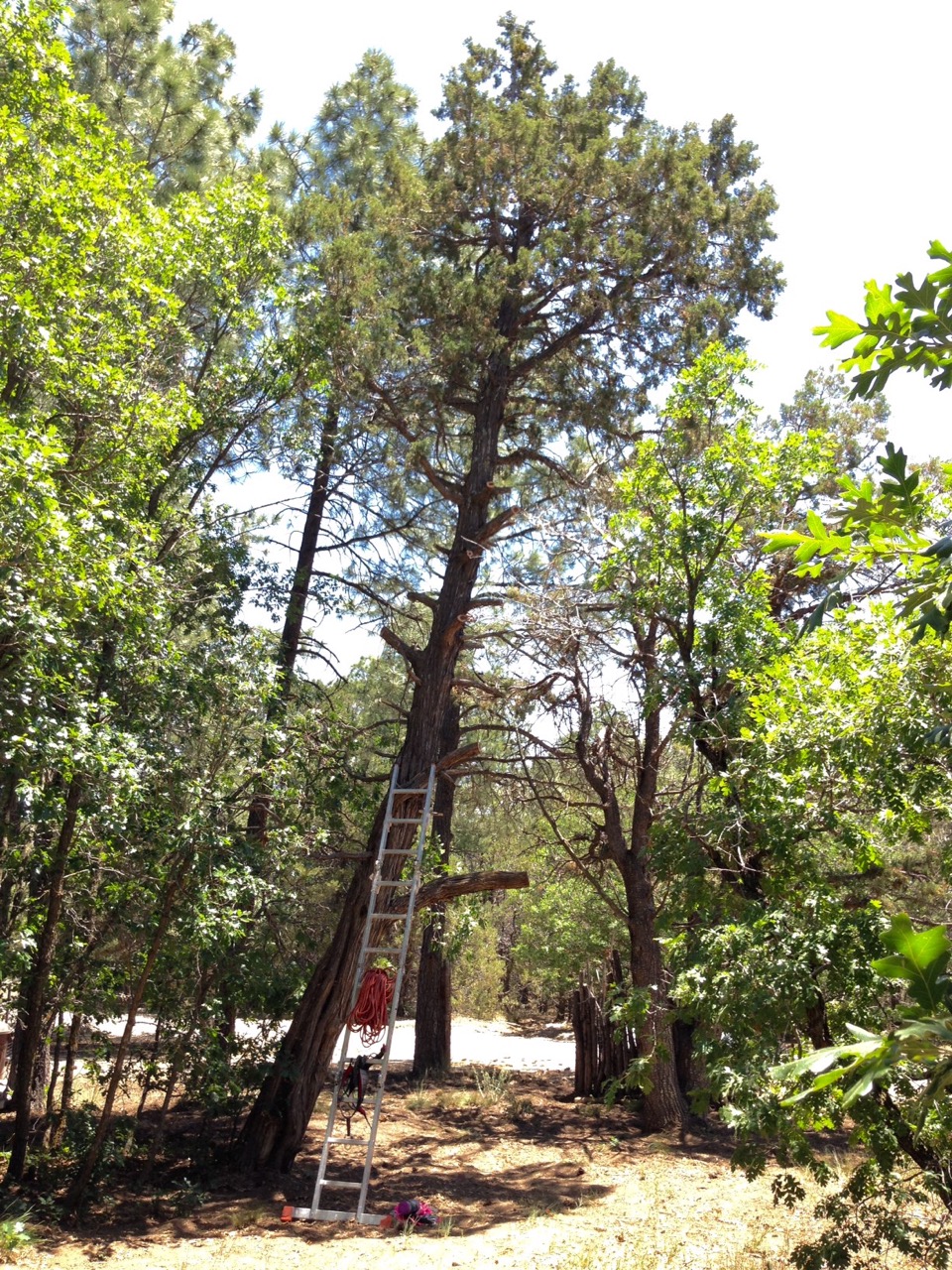 As anticipated, the above mentioned tree required more than a day's work. Yesterday morning, I went up to finish topping off the tree, so it could be safely felled within the limited space surrounding it. I got that done just before Sue came out and announced the new direction of our afternoon. I had been moving carefully and deliberately, letting the Master show me how to best manipulate the chainsaw safely while dangling at the end of a 9mm rope.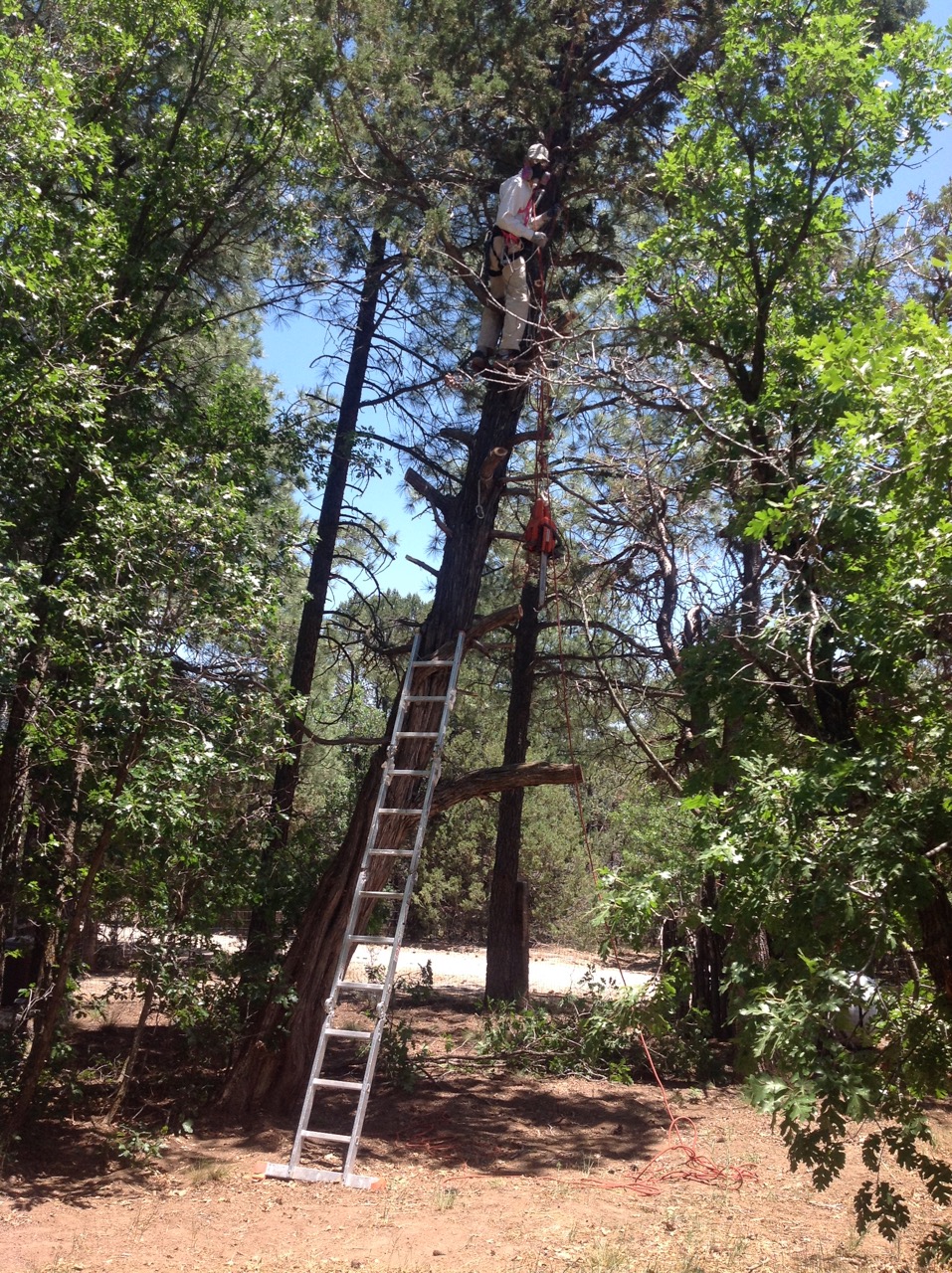 Beginning the descent and leaving the rope attached to the treetop through a pulley, I carefully prepared to lower the chainsaw before I went down. Then I got to observe one of those classic and often fatal mistakes tired and hurried climbers sometimes make. As I positioned the chainsaw for its descent and changed my grip from it to the rope, I watched the doubled sling fly out of the chainsaw handle, as it began the thirty foot free fall. One of the loops I 'thought' was clipped into the carabiner was not. I shouted, "Oh, SHIT!", at the top of my lungs.
Still wearing my respirator, no one heard my scream. Having spent half of my adult life with an underpowered, steadily declining Homelite from the '70s, I was now watching a relatively new Husqvarna that ran like an Audi begin the trajectory to its fate. Miraculously, it appeared to me that it completed a 120˚ rotation just before hitting the ground so that the bar did not receive the impact. It's still in the back of the car now, where it remains packed to visit the chainsaw doctor when I thought we would enjoy forced exile.
Simultaneous to my scream was a deep appreciation that the mistake was gently 'shown' to me, rather than exerted upon 'me'.
Maybe I'll go out in a little bit (we're enjoying a very lazy morning/afternoon/day) and see if I can make a chainsaw diagnosis of my own. My checklist-oriented mind can't stand that the tree is still standing.

Only a couple of hours after a fairly typical Sunday brunch (roast duck with a huge pile of perfect green beans covered with shiitakes and garlic in butter, and chased by purple hashbrowns seared in duck fat), I'm feeling a little nibbly.
A specific image was tugging at my attention, but I couldn't put my finger on it. Finally, it came through with unsuspected satisfaction—exactly what I wanted, and hadn't had in years. Sue was totally on board when I offered French toast made with Whole Foods' Seeduction bread slices (which Sue has kept in the freezer for just such inspirations), drenched in fresh Araucana eggs and grassfed milk, spiced with coriander, freshly ground nutmeg, salt and a little pepper. She even joined in with a pile of fresh sliced strawberries to join the maple syrup.
If I had slowed down to take photos of 'second breakfast', I'd share them. But I wouldn't want you drooling on your keyboard.
We're truly surrendering to the shift this solstice seems to be offering—with wild abandon.
Hope this little travelogue provides some camaraderie to your own version of imbibing in His love, wherever It takes you. How fortunate if It returns us to nothing!
Happy Solstice!