Guest Author,
Scampi Underfoot
Mr. Underfoot lounging in his favorite contemplation chair with his friend,
Dino, the Purple Dinosaur.

Today, we are most delighted to announce an unprecedented literary contribution, compliments of our special guest, Scampi Underfoot, the Magnificent Mountain Maltese of Shabda Ridge. Although his influential presence has been a well known feature for years to insiders here at Shabda Ridge and at Future Medicine Now, this is Scampi's first public appearance on the pages of Future Medicine Now's Contemplations blog. We're sure Scamp's fans, far and wide, will relish his debut, and we look forward to offering additional insightful features such as this one from the Master of entertainment!Actually, the truth is, we requested the use of an email we obtained through unnamed sources. Mr. Underfoot graciously agreed to let us post the email, written to his mom, Sue Swanback. We are privileged to be granted such a rare and candid glimpse into Scampi's personal life, although his open generosity comes as no surprise to those close to him. We are equally indebted to his mom for her consent. Here it is, now, in unabridged form, directly from Mr. Brighteyes, himself.
Subject: Maaaahhh-umm!!! We made it back!
Actually, we had a really good time. Even though Larry forgot my collar and harness (he's such a ghumbah, isn't he? I think that's the right word). But it all worked out. Even when we met a couple of dogs. I think their owners got lost, because we never saw them. The first one was okay. We sniffed each other up and down in the parking lot, and it was kinda interesting, but he was like ten times bigger than me, Mom, and he couldn't keep his nose out of my butt, so Larry scooped me up and started up the trail. Whatever. We were on our way!
We hadn't gone very far when we ran into a big chow coming down the wash. As usual, Larry saw him way before I did, and he scooped me up again — which was okay with me, 'cause I didn't like the looks of that chow. He came right up to us with a look on his face that made me uncomfortable enough that I screeched at him. Not too much, you know. Yeah. You know how Larry is about screeching.
Between you and me, I think Larry was a little nervous, too.
But he just kept walking with me in his arm. I thought for a minute or two that I had a pretty good deal going, but he put me down again, and I had to trudge along in that damned deep sand. As soon as we hit the trail up to the Hawk Watch, though, I hit my stride, and we cruised along as fast as Larry could go. Until I ran into something really painful on the trail. My left hind paw hurt like hell, but, you know, I just kept up my happy puppy face and kept going! The show's gotta go on, right?
We took a break at the stone gate on the ridge crest, and frankly I was okay with that, because those damn cactus needles were driving me nuts. When I realized he was really stopping, I decided to see if I could get them out, but y'know, my little teeth are all pointy and so far apart! They just aren't worth a damn for a task like that. All I could do was pull hair out from between my toes. And I don't think that helped.
Larry kept interrupting me, but I kept after it. He finally convinced me to let him have a go at it. He got all serious and put on his glasses and pulled something out of his pocket. That always makes me nervous, but I'll be damned if he didn't have those suckers out in a couple of minutes. Tiny little things! But they felt pretty big, wedged in there between my little toes. Whew! What a relief! I didn't know just how bad they were until they were gone. Larry's good for things like that, y'know.
How about a treat now, Larry?! I did just what you asked, and they're gone now, huh? Doncha think that's pretty good, Larry? Huh? Huh? I know you have a bag of buffalo liver jerky in that little pack. Wag. Wag. Prance. I saw you put it in there. But I didn't need to see you. I know what that bag sounds like. Wag.
We had a pretty nice time there in a spot that didn't have any wind, and it was nice and flat and sunny. And we didn't even have to do anything scary to get to it! That's a first for sure, isn't it? I zoned out on his lap for awhile in the sun. But pretty soon, he started acting like we were going to move again. Oboy! Let's go!!. He finally got all his stuff together and stood up and I took off up the trail. But he didn't want to go that way. He wanted to go back down the way we just came. Sometimes I just don't get what he's thinking…
But we headed down, and I decided that was pretty good too. Especially without those damned cactus spines! We took a new way down, and that was kinda fun. Got back to the parking lot and had it all to ourselves. He opened up the car doors to let it cool off, and I jumped right into the back. Larry seemed to like that. He even took a picture of me.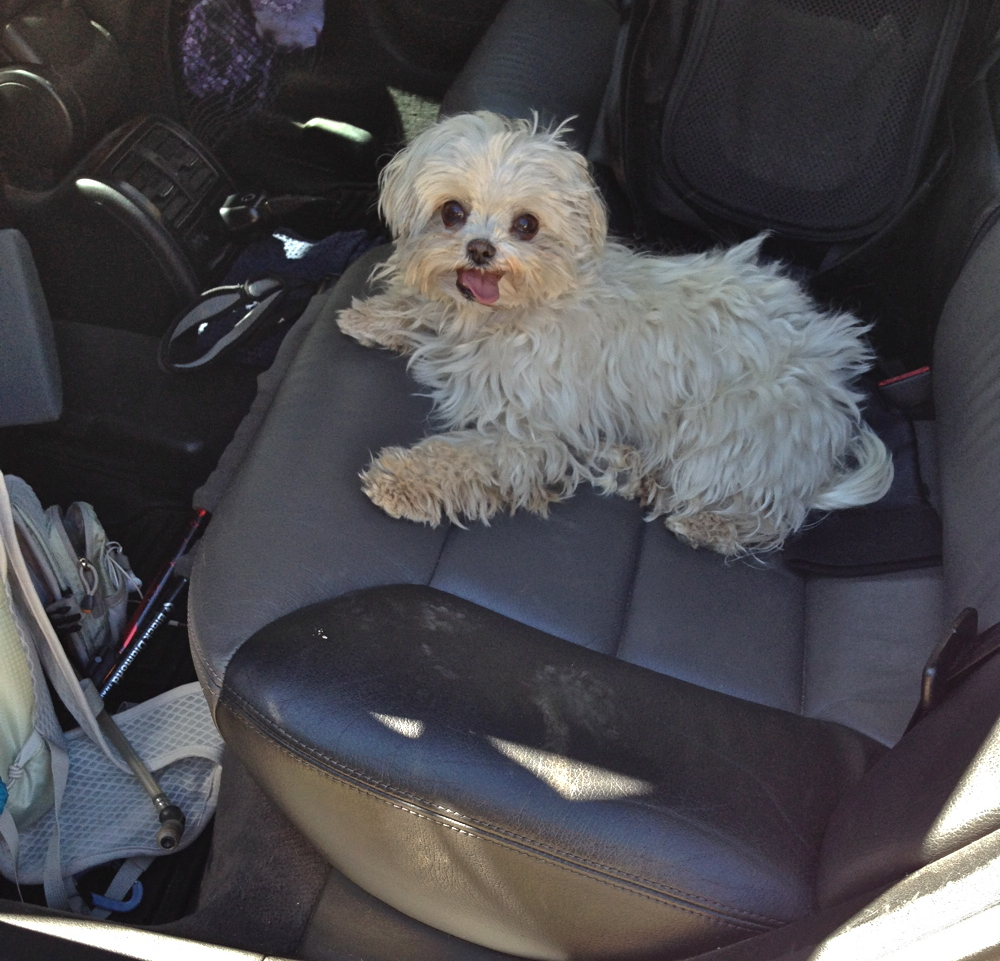 So after he got all his stuff together and warmed up the car (Jeez, felt like it was already warm to me!) we started to leave. But he wanted me to actually get back inside that damned crate before we left! I don't get it.
But I got in, mainly because he finally shoved me in! What the hell, I thought? I'll just go with it… Mom, what does sahaj mean? People use all these big words, but that one's been on my mind.
It wasn't too bad, though. Larry opened the rear windows and adjusted them just right, and that made up for being in my seatbelt crate — nice cool breeze!
Wish you were here, Mom! We had a really good time. Think I might take a nap when we get home. In fact, I'm feeling a little sleepy right now…
Love you!! Zzzzzzzzzzzzzzzzzzzzzzzzzzzzzzzzzzzzzzz. Muuuumph, slurp…. zzzzzzzzzzz… Snore.